It seems that choosing and buying socks should not pose any problems. Nowadays, however, manufacturers offer such a wide range of products that without a more precise definition of your needs and personal preferences, it may turn out that you will end up with the first best socks which will quickly tear or will not warm you up as much as you would expect. Here are some tips which will easily help you out of this sock dilemma.
Not just any material
Analyze well the material from which the socks are made. It will be beneficial for your health if the fabric is 70-80 percent organic. The best choice will be cotton socks. They will allow your feet to breathe well and not sweat excessively. Choosing such a material will ensure long use. Choose pure cotton or silk in the warmer months, but for the winter period get yourself socks with an addition of wool or agora, which will keep you warm for a long time and at the same time are soft and pleasant to the touch. This type of material should contain small amounts of lycra or nylon, so they will keep their shape for a long time and will not deform when washed. Another raw material you may not have heard of, which is great for dealing with odors, is bamboo yarn – a material with hypoallergenic properties. It's great for running and other endurance sports. For hot days, it is also good to get a pair of linen socks. This is a fairly cool, lightweight material that will keep you comfortable during the summer heat. Its only disadvantage may be a small variety of colors, because due to its structure it is difficult for it to catch dyes. Therefore, linen socks can usually be found in low-intensity, pastel colors. For everyday wear, choose the above material variants, based on natural fabrics, allowing for proper ventilation. However, it is good to have in your closet a pair of extravagant models for special occasions. The largest choice of designs and colors will be among socks based primarily on artificial fabrics. You will often find materials such as viscose, acrylic and elastane in the composition, but most often it will simply be a mixture of several types of fabrics
Finally, when choosing a material, you must also consider the value for money, socks made from organic materials will be correspondingly more expensive. However, remember that this is a piece of clothing that, just like underwear, comes into contact with your intimate parts of your body and it is good to ensure proper comfort and functionality in such a place.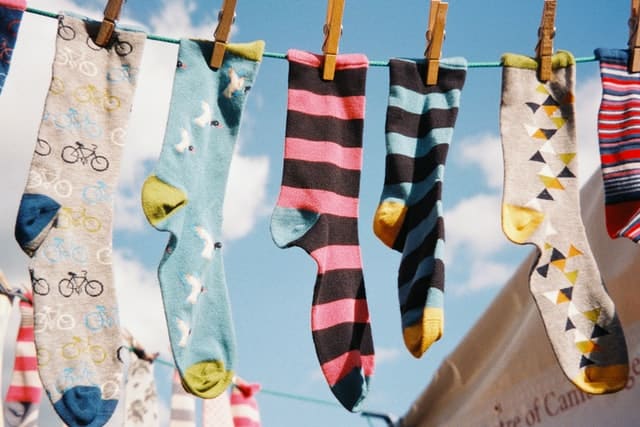 Masculine elegance
When you are getting ready for work and formal occasions, it is important that your underwear is discreet and clearly serves its purpose. Leave the colorful, striped, meme-laden socks at home and go for classic shades that will go with everything outdoors. Immortal grays, blacks and navy blues will work best here, which, apart from not being conspicuous under pants, are additionally not problematic during washing. If you want to individualize your formal image more, choose socks with delicate checkered print in unobtrusive shades – here, too, unobtrusive browns, mustards and blues will work. You can also go crazy and go a step further and opt for a totally extravagant total look – match closed shoes with intense orange, green or purple. This will show your uniqueness and creativity, but without crossing the rules of good taste. Try to avoid bright shades – they will be much more difficult to clean. It's best if your socks are aesthetically related to any of your other accessories, such as pants, belt, tie, or bow tie.
Details are worth their weight in gold
Pay attention to the length of your socks, each one is adapted to a certain occasion. With elegant shoes, such as moccasins or chinos, ultra-short socks of the foot type will be better – they allow you to keep your feet clean, but at the same time they do not stick out above your shoes – such option looks neat and aesthetically pleasing. Slightly longer, up to the ankle or half calf, will go well with sporty, youth shoes like sneakers and sneakers, and choose the longest ones when you want to ensure proper thermal comfort in winter. Some models even have electric heating via USB charging. This is an interesting idea worth considering when going for a long winter walk in the mountains. Moreover, pay attention to whether the socks contain a double, wide elastic band, which does not leave marks on your skin, and whether they do not have protruding threads, which prove low durability of the product. Such an elastic band will keep the sock comfortably in the same place all the time without exposing it to dangerous irritation.
Photo Cottonbro/Pexels