Kitchen countertop should not only be beautiful, but above all durable, resistant to damage and functional. How to choose the countertop, which will meet these requirements?
The ideal kitchen countertop is such, which at the same time: matches the fronts and the entire interior design, is durable and resistant to mechanical damage, is undemanding in maintenance. The choice of types of countertops is very rich. What are the characteristics of each of them?
Wooden kitchen countertop
Wooden kitchen countertops are a timeless and elegant option. They match almost every type and color of kitchen finish. We have a full range of colors to choose from – from natural wood through all its shades, and even some pretty crazy stain colors. Wooden countertops are heavy, solid and sturdy. If properly protected and used they will serve us for many years.
The disadvantages of wooden kitchen countertops include mainly the price. Natural countertops are very expensive. The more so that in recent years they are also fashionable. We should not put dishes on the wooden countertop when they are taken off the burner or taken out of the oven. Very hot dishes can damage it – leave a mark or even burn a hole. Avoid cutting directly on a wooden countertop. The knife can scratch the wood and leave unsightly cuts in it.
The undoubted advantage of a wooden countertop is that it can be sanded. The damage can be removed by peeling off the top layer of the countertop, after re-sanding there will be no trace of the damage. A wooden kitchen countertop may require regular oiling or varnishing.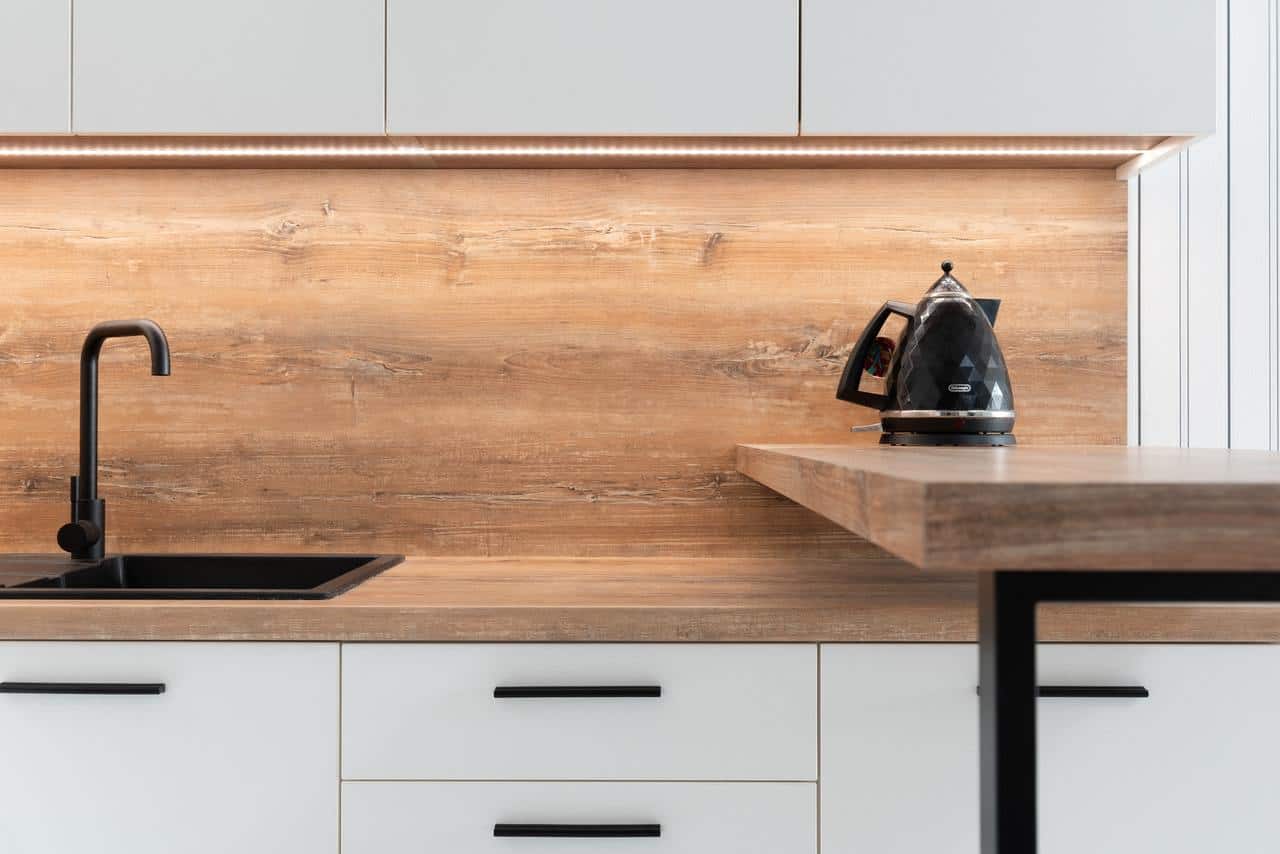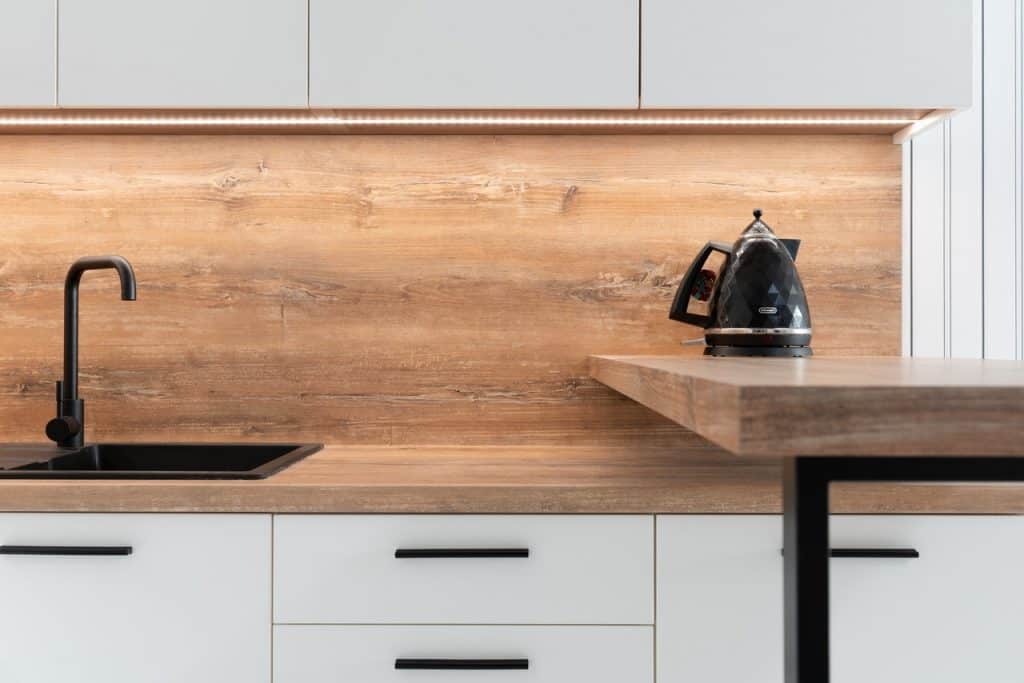 Laminate kitchen countertop
A cheaper alternative is laminated kitchen countertops. Their advantages are not only affordable price, but also a wide choice of colors. The countertop is made of particle board or MDF, and the outside is covered with a durable and resistant layer of laminate. Contemporary laminate is something more than veneer associated with communist Poland. The material has been modernized and gives the possibility to create the surface very similar to the structure of wood, marble, concrete, etc.
Laminated kitchen worktops are fabulously easy to maintain. Thanks to their structure they do not absorb dirt and are very easy to clean. What is more, laminate does not lose its color when exposed to sunlight. The material is resistant to scratches and high temperatures – everything of course within reason.
Laminate countertops are light and easy to process. Thanks to this their assembly does not take much time either. In combination with favourable price and various choice of motifs and colors laminate countertops are an interesting option. The main disadvantage of laminate countertops is that they cannot be renovated. Once damaged countertop unfortunately needs to be replaced.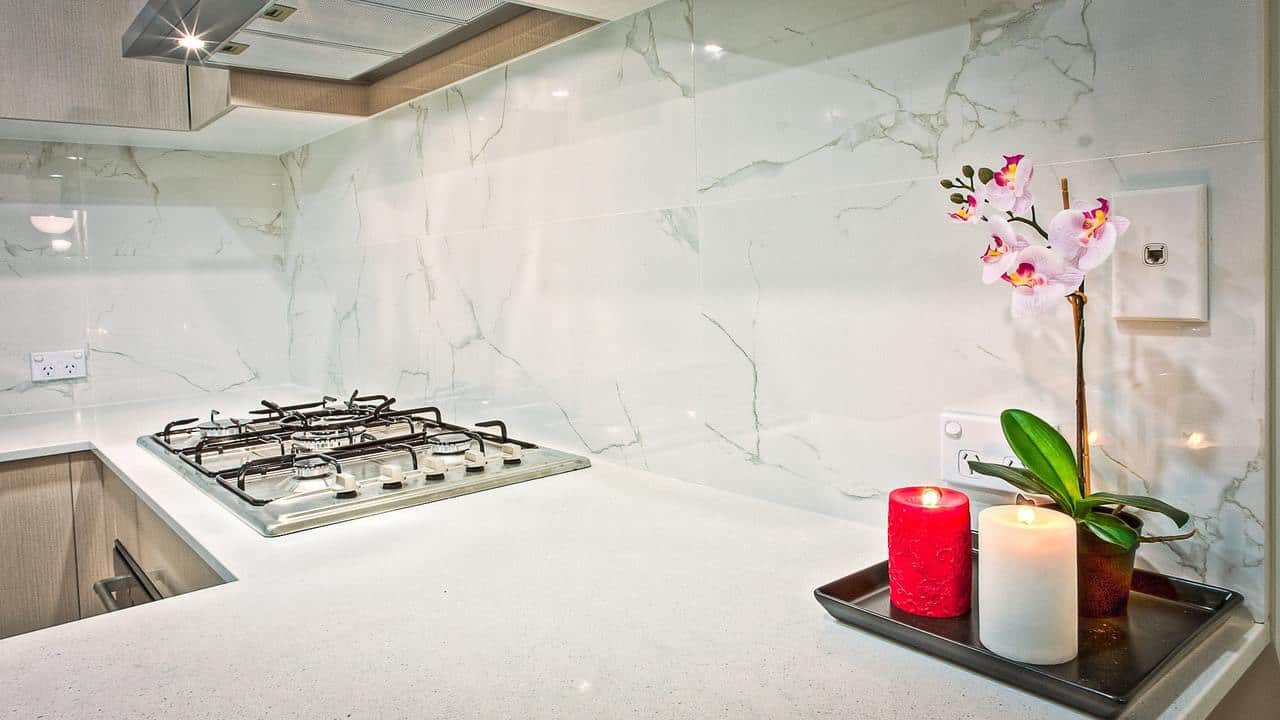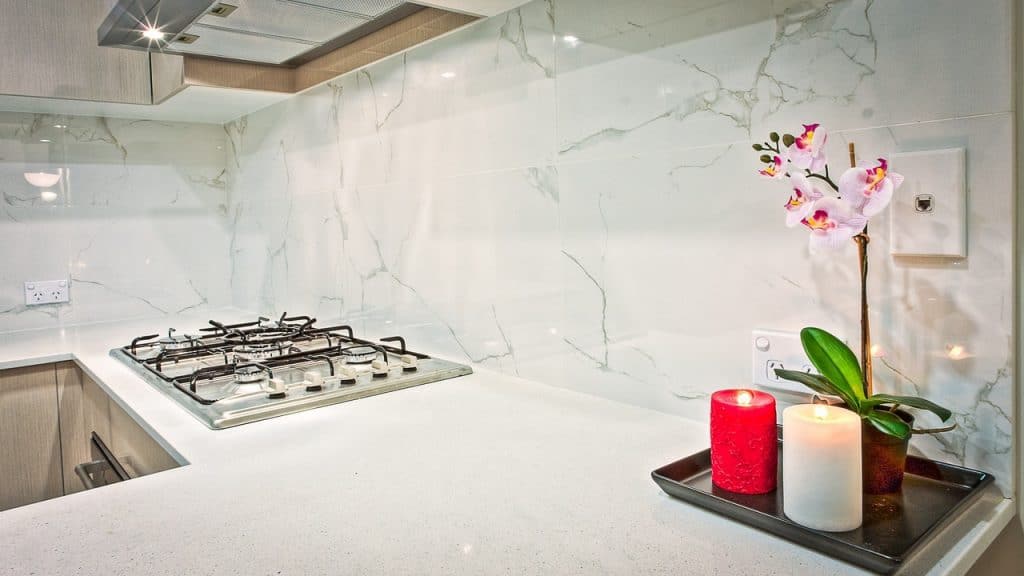 Conglomerate countertops
Mysteriously sounding conglomerate is a material formed from a mixture of ground stone, granite or marble with polyester resin. As a result we get a very durable and solid countertop. In order to give color to the mass a pigment is added to it. The finish of conglomerate countertop can be matte or glossy.
Conglomerate countertops have a very interesting design. They work well in modern interiors and in combination with monochrome cabinet fronts. Countertop made with this technique is incredibly durable, resistant to damage and will serve us for many years. Ideally suited for homes with small children and tenants who do not like to be careful when cooking. Directly on the countertop we can cut with a sharp knife and put away hot dishes without worrying about damage.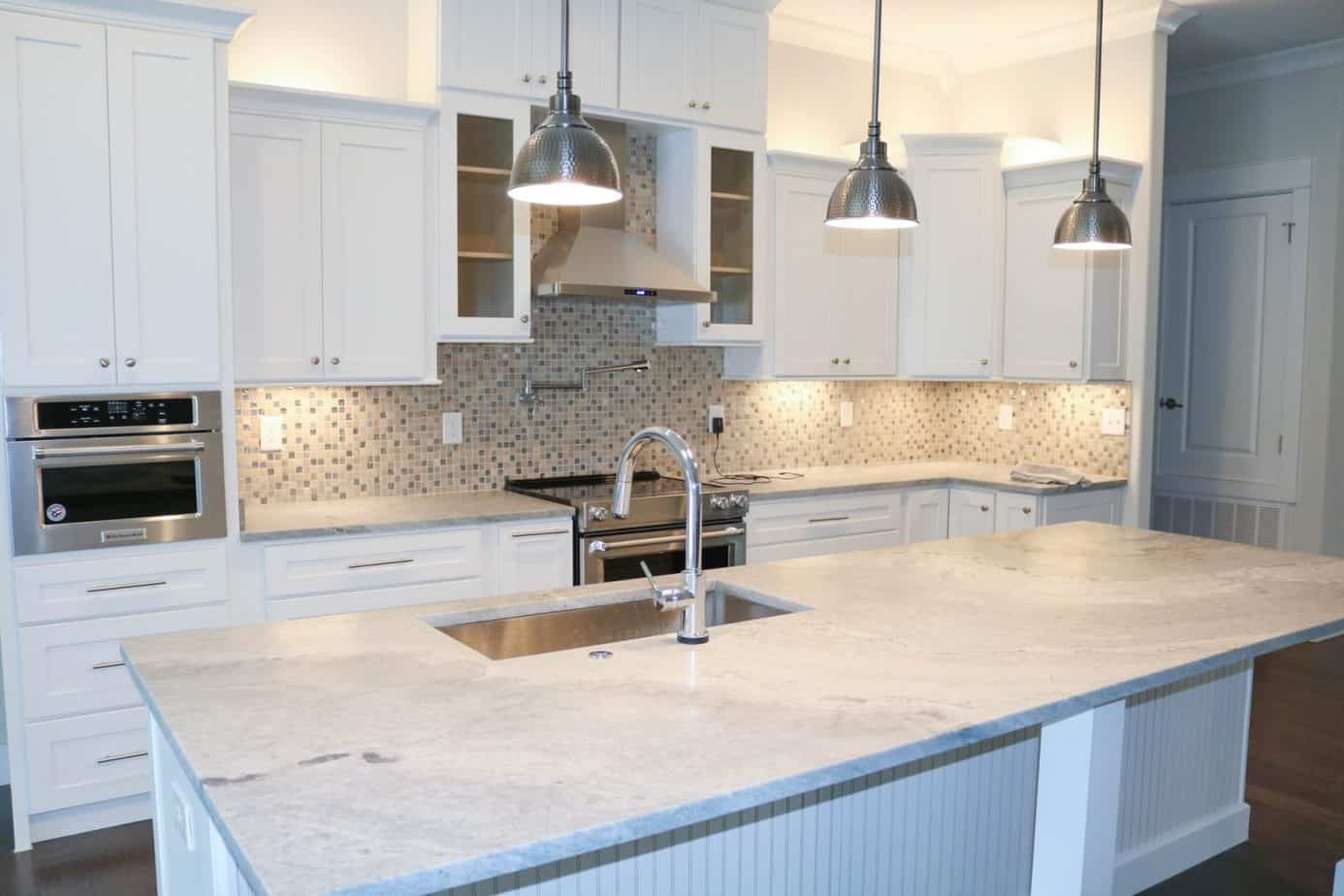 Customized countertops
Not every kitchen is dimensional and can be arranged in a simple way. Sometimes ready-made furniture sets do not fit into our interior. Then a carpenter comes with help and the possibility of ordering custom furniture. Professionals deal with the creation of kitchens from A to Z. No problem we will choose them a countertop, which will be prepared specifically for our needs. Countertop on dimension we can have with any material. During the installation, the carpenter will cut it and adjust it to the space
Main photo: Max Vakhtbovych/Pexels